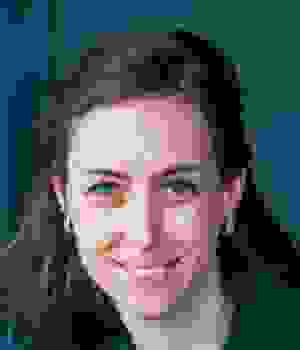 Organist and composer Brenda Portman (b. 1980) was educated at Wheaton College, Northwestern University, and University of Cincinnati's College-Conservatory of Music. Her doctoral research was on minimalism in twentieth-century Dutch organ music. She has studied with John Behnke, Edward Zimmerman, Douglas Cleveland, Marilyn Mason, Roberta Gary, and Michael Unger.
Portman has received numerous awards in organ competitions, spanning a decade: from First Place in the Arthur Poister Organ Competition in Connecticut (2006) to Finalist and Audience Prize winner in the Sursa American Organ Competition at Ball State University (2016). In October of 2014, she was the only American woman to compete in the prestigious Canadian International Organ Competition in Montréal. Her performance there led to a collaboration with acclaimed Canadian composer Rachel Laurin and a recording on the 88-rank Casavant organ of HPCUMC Cincinnati: Pilgrimages: Organ Music of Rachel Laurin Inspired by Sacred Themes, which was released in April 2016 on the Raven label.
Other prizes include First Place in the Arthur Poister Organ Competition (2007), First Place in the Bank District British/American Organ Competition (2009), performing a winner's recital at St. Paul's Cathedral, London, and Third Place in the Rodgers North American Classical Organ Competition (2012). She has also been a finalist in the Fort Wayne National Organ-Playing Competition (2010) and a semifinalist in the AGO's National Young Artists Competition in Organ Performance (2010).
In addition to Pilgrimages, Portman recorded a CD of organ works of Edwin T. Childs entitled All Might and Majesty (2009) on the Schantz organ at College Church in Wheaton, Ilinois. As a composer, Portman primarily composes sacred choral, vocal, and organ works. Her concert settings of hymns for solo voice and piano have been highly acclaimed by many professional singers, and three hymn preludes for organ were included in the Bayoubûchlein (published by Selah) for the 2016 AGO convention in Houston. Her Elegy for solo organ was the winner of the Twin Cities AGO Composition Competition in 2016, and her musical setting of the commissioned hymn text Christ, Who Was Before the World Began won an award in 2014 for the 300th anniversary of Bruton Parish Episcopal Church in Williamsburg, Virginia.
Portman is currently Resident Organist at Hyde Park Community United Methodist Church in Cincinnati where she provides music for worship services, accompanies the Wesley Choir and Cathedral Choir, and serves as Executive Director of the church's renowned Organ Concert Series. She is also Adjunct Organ Instructor at Xavier University in Cincinnati. Portman has held previous positions as Organist at First Presbyterian Church in Flint, Michigan, and Director of Music Ministries at Trinity Lutheran Church and School and Jackson, Michigan.