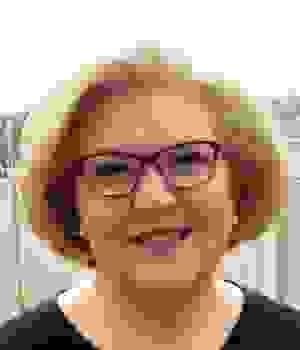 Donna Butler Douglas, a native of Ada, Oklahoma, is a nationally‑recognized composer of choral music. Donna has been involved with music as long as she can remember, having been raised by two professional musicians. Donna holds a Bachelor of Music Education degree in Piano from Oklahoma Baptist University and a Master of Music degree in Theory and Composition from Southwestern Baptist Theological Seminary in Fort Worth, Texas, where she studied with Claude L. Bass. For over twenty‑five years she served as director of music for churches in Oklahoma, Dallas/Fort Worth, Kansas City, and Little Rock, Arkansas.
Donna composed her first song at age four and was first published at age thirteen. She is often represented under her maiden name, Donna Butler, and has received numerous awards from the American Society of Composers, Authors and Publishers (ASCAP). Mrs. Douglas is an accomplished pianist, soloist, and freelance composer with over 100 compositions in print. Donna is a recipient of the Profiles in Excellence award, presented by Oklahoma Baptist University to noteworthy alumni. Her early efforts in music publishing were mentored by noted composer John Ness Beck, who championed her career.
In 1990 Mrs. Douglas composed the official college hymn of William Jewell College, God of Truth and Joy and in 2010 was asked to write the centennial anniversary anthem for her alma mater, Oklahoma Baptist University.
Donna married Gary Douglas in 2005, which brought the joy of four grown children, their respective spouses, and seven grandchildren. She resides in Olathe, Kansas with her husband and their lovable beagle, Eli.