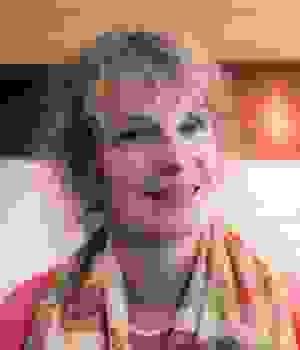 Margaretha Christina de Jong
The Dutch organist and composer Margreeth Chr. [Margaretha Christina] de Jong (b. 1961) graduated from Rotterdam Conservatory, the Netherlands, in 1986 with Diplomas in Church Music, Organ Music Pedagogy, and Organ Solo Performance with a score of 10—the highest possible mark in the Netherlands. In view of this exceptional achievement, the Dutch Ministry of Welfare, Health, and Cultural Affairs awarded her three times with grants for further study abroad. She specialized with Guy Bovet in Switzerland, and with Jean Langlais and Marie-Louise Jaquet-Langlais at the famous Schola Cantorum in Paris. There she gained the Prix de Virtuosité in 1988 (again with highest distinction). That same year, she won first prizes at international organ competitions in Paris and Haarlem (César Franck Competition).
In 1994, she was decorated with a silver medallion by the Société Académique "Arts – Sciences – Lettres" in Paris in recognition of her contributions to French organ culture. She was awarded a Knighthood in the Order of Orange-Nassau by Queen Beatrix of the Netherlands in 2012. When she was appointed city organist of Middelburg in 2014, an old tradition of the capital of Zeeland was restored again after two centuries. At the same time Margreeth Chr. de Jong became Middelburg's first female organist in this venerable tradition; moreover, she is also expected to be active as a composer in this capacity.
Margreeth Chr. de Jong is city organist, organist of the Nieuwe Kerk, and organist of the Walloon Church, in Middelburg. She has given numerous solo recitals in Western Europe and been featured in major concert series. She has also made many radio, television, and CD recordings. Since 2005, she teaches at University College Roosevelt, the International Honours College of Utrecht University in Middelburg. Moreover, she is very active as a composer. Her compositions are performed worldwide and the majority of her works have appeared in print in various European countries. For more information, please visit margreethdejong.nl.