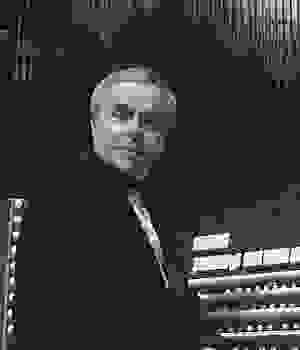 American organist and composer Robert Hebble (1934–2020) was a graduate of Yale University and the Juilliard School, where he studied with Vittorio Giannini and Roger Sessions. He also spent a year in Paris in private study with Nadia Boulanger.
For over thirty years, Hebble's career was closely linked with the famed organist Virgil Fox. Fox was one of the first to recognize Hebble's creative gifts, appointing Hebble as his assistant at New York's Riverside Church at the age of sixteen. Hebble traveled extensively as an organist, pianist, composer, and clinician throughout the United States, Canada, and Asia. Among many commissions and publications, his extensive choral and organ compositions included the dedicatory organ work "Heraldings" for the Crystal Cathedral; "Hoc dies resurgam" to inaugurate the "Trompeta majestatis" organ stop at New York's Riverside Church; and a major work, "A Symphony of Light," commissioned in memory of Virgil Fox, which Hebble performed in Paris at the Cathedral of Notre-Dame. Other significant projects included "Cathedral Tapestry " for two organs and carillon (commissioned by the Crystal Cathedral for the twentieth anniversary of the Hazel Wright Organ) and "Cathedral of Commerce," commissioned by the Friends of the Wanamaker Organ for the 100th anniversary of the famous instrument in the Philadelphia store.
Hebble has been both choral music reviewer and contributor for The American Organist magazine and The Musical Courier. He was on the faculty of the Stevens Institute of Technology for many years and the original consultant to Carnegie Hall in the design of its five-manual Rodgers Organ.
Throughout his career, Hebble has distinguished himself as a colorist—a musician whose conception of beauty finds variety in harmony the way an artist mixes color. His prismatic use of musical sound is the trademark of his concerts, writings, and improvisations. After serving as a church organist for fifty-seven years, Hebble retired in 2003 from his post of twenty-one years as Director of Music and Organist at First Congregational Church of Lake Worth, Florida.