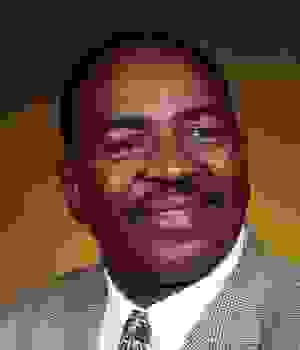 Uzee Brown, Jr., a native of Cowpens, South Carolina, is chair of the Department of Music at Morehouse College and director of the historic Ebenezer Baptist Church Choir. He has enjoyed a diverse career in music, and the combination of his professional activities as singer/performer, composer/arranger, educator, and choir director has taken him to more than sixteen countries, including Italy, Germany, France, Switzerland, Poland, Russia, five countries of Africa, and the Caribbean. As Director of the historic Ebenezer Baptist Church Choir, he led the choir in concert tours of Germany, Switzerland and France in June 2002 and Italy in June 2004.
Dr. Brown is past president of the National Association of Negro Musicians. During his presidency he spearheaded the completion of the first official publication of a documentary history of the National Association of Negro Musicians by the Center for Black Music Research in Chicago, Illinois. Additionally, he initiated and successfully completed a NANM $100,000 Endowed Scholarship Fund for competitive, aspiring young African‑American performers. Included among his many performances in opera and oratorio are world premier roles of Parson Alltalk in the Atlanta Symphony Orchestra's premier of Scott Joplin's Treemonisha, the title role of King Solomon in Emory University Theater's premier production, the Alliance Theater's showcase production of Jubilee and the performance of Mr. Letterlaw in the 2000 premier of Curtis Bryant's operatic work, Zabette. In November, 2005 he performed the role of Frazier, the Lawyer in Atlanta Opera's production of Porgy and Bess and subsequently performed the role in a Nashville Symphony production from Gershwin's originally edited score, which was recorded by Decca records and released in November 2006.
Dr. Brown is a respected educator and lecturer on African‑American music. For more than thirty years he has been immersed in researching and preserving the Negro spirituals. His CD, Great Day, released in 2006, is a compilation of his own solo spiritual arrangements. It includes some rare and seldom‑heard spiritual melodies, and spirituals of which there no known previous arrangements as solo works. A recipient of numerous awards, his composition commissions include works for the National Public Radio and the Atlanta Symphony, colleges, universities, soloists and ensembles. His works have been performed internationally and at the Lincoln Center and Carnegie Hall. Recent commissions include a choral work for the 2004 Festival of New Music and Art in Ohio, and choral and instrumental works for the 2006 100th anniversary of the Alpha Phi Alpha Fraternity. In November, he was soloist in two performances of Afro‑American Suite with the Atlanta Symphony Brass Quintet, a work that he premiered with the ensemble in 2004.
In addition to studying at Berkshire Music Center, Tanglewood and the University of Siena in Italy, he holds degrees from Morehouse College (B.A.), Bowling Green State University (M.M. in Composition), and University of Michigan (M.M. and D.M.A. in performance).